We now stock the Aputure LS C300d LED COB Daylight light - with dimmer and wireless remote control matching the other Aputure Light Storm series lights. This light can be powered by mains or from high rated V-lock batteries for use in the field. To date this is the biggest and brightest light that Aputure have ever made and it is the winner of several awards - including Best Lighting Product at NAB 2017. The LS C300d is a game changing COB light, boasting extremely powerful output, an advanced cooling system, portable build, and a TLCI rating of over 96.
You can hire the LS C300d from Maniac Films here: Aputure LS C300d LED COB Daylight light
The LS C300d is the brightest LED light in the Light Storm series. (We also stock the Aputure LS 1C LED panels with adjustable white balance).
Boasting an impressive 48000 lux @ 0.5m with its included reflector, it can also reach an incredible 142000 lux @ 0.5m with the optional fresnel mount (with camera settings set to f/36, 1/200 shutter, and ISO 800). This level of illumination is approximately equivalent in output to that of a traditional 2k tungsten or 400w HMI.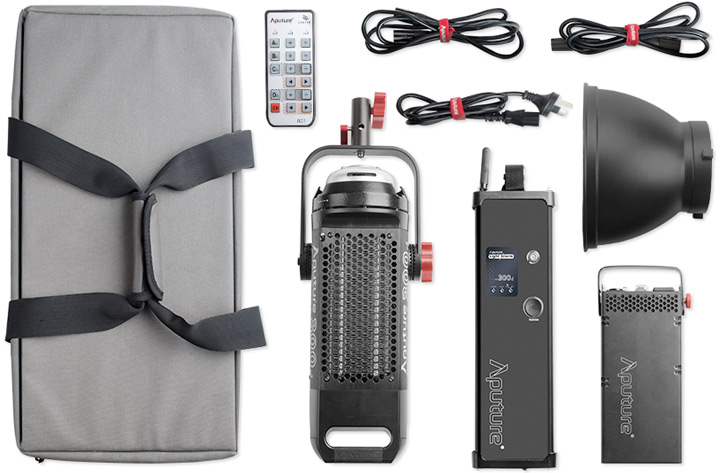 With a native white balance of 5500K, the LS C300d casts a powerful light that is both natural looking and pristine in color. The LS C300d features not only a CRI rating of 95+, but a TLCI rating of 96+, allowing for extremely precise colour accuracy making it perfect for broadcast video, photography, television production, and studio film making.
At the time of writing we stock two LS C300d lights.
We also stock a range of accessories including the Fresnel attachment, Light Dome softbox and the 260deg Space Light softbox. Ideal for creating an ambient light in a room.
We will be adding some Avenger mini booms with drop pins and creating some kits with C-stands for these LED lights very soon.