Now in stock and available for hire, the impressive Aputure P300c 300W RGBWW LED Soft Light
The Nova P300c is a 300W RGBWW LED Soft Light. The P300c utilizes warm white and cool white LEDs, in addition to the typical RGB chipset used in color-mixing lights. This chipset increases its output, skin tone accuracy, and tonal variety compared to other RGB or RGBW LED fixtures, making it suited for any filmmaking environment. Combining the stellar color quality with an intense output of over 9,000lux at 1 meter, a CCT range of 2,000K-10,000K, and a peak tungsten SSI of 85, the Nova is Aputure's most versatile light to date.
The equivalent of the Arri Skypanel S30-c, the Nova P300c is capable of outputting over 9,000 lux, at a distance of 1 meter, while maintaining a wide 120° beam angle. By combining this intense output with the wide beam angle of a soft light source and 0-100% stepless dimming control, the P300c can easily fill large areas, allowing you to control the ambient lighting of your entire scene instantly.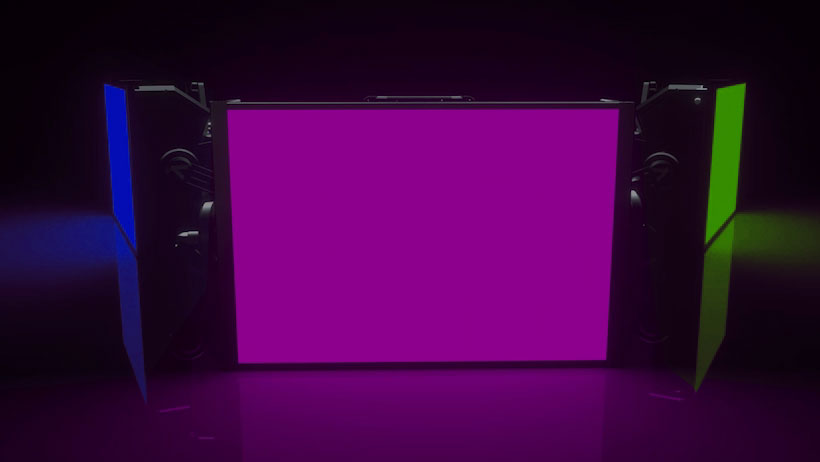 By using an RGBWW chipset that results in higher quality color mixing and spectral reproduction than typical RGB and RGBW LED fixtures, the Nova P300c can produce more than 90% of the colors within the Rec.2020 color space. The P300c allows for up to 1 billion color combinations and precise color matching. The Nova P300c even has a built-in preset library of over 300 industry-standard gels, for ease of access and fast-paced shooting environments.
Built-in Lighting FX
The Nova P300c is Aputure's first lighting fixture capable of supporting the full library of 15 lighting FX, including: Fireworks, Paparazzi, Faulty Bulb, Lightning, TV, Pulsing, Strobe, Explosion, Club Lights, Candle, Fire, Welding, Cop Car, Color Chase, and Party Lights. With the ever-evolving abilities of the Aputure and Sidus Link ecosystems, the P300c's feature set will only continue to grow.
The Sidus Link Ecosystem
As a professional color-mixing fixture, the Nova P300c juses Sidus Mesh ecosystem, allowing for mobile control from a compatible smartphone or iPad with the Sidus Link app. With the Sidus Link Mesh Network, you can control up to 100 fixtures, including the LS C300d II, LS 300x, and MC, with each additional light fixture increasing the range of the network for a maximum range of up to 400 meters. Sidus Link allows users to control every aspect of a light's output, including brightness, CCT, HSI, RGB, XY, Effects, Light Source presets, and even grants users the ability to match existing light sources or colors using the smartphone's camera. And with the ability to save a virtually unlimited number of presets to your Sidus Link account, you'll always be able to recall your favorite looks.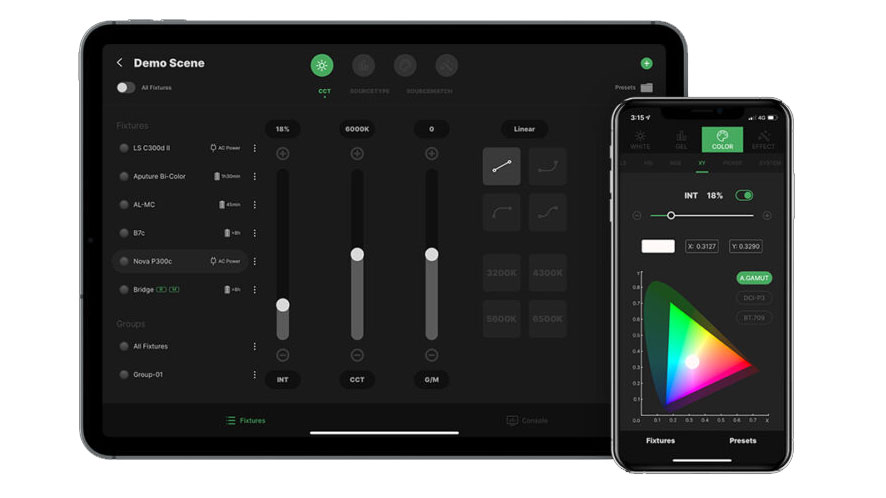 The Aputure Nova P300c comes packed in a custom flight case and we also stock a custom designed softbox, the Aputure Softbox for Nova P300c LED panel, which further opens up the lighting options with this fantastic light.