Mark has been down to the lovely Hayle Beach in Cornwall as part of the crew for the latest Kelly's Ice cream commercial 'Beach Huts' by Director Alex Turner from Fat Lemon tv. Shot on the Arri mini Alexa with anamorphic lenses on a beautiful sunny day in April, Mark was tasked with providing video playback to the clients and agency and to the Director Alex and performing a bit of data wrangling/backup of the CFAST cards coming off the camera.
Mark used two separate video links to get the signal from the camera to a larger client viewing monitor and into a Prores recorder and to the wireless Directors monitor and wired it up to allow playback to both monitors for review of the shots. We had to ensure all our kit ;was battery powered and reasonably light weight and robust to work on the beach all day and opted for a setup running from several Vlock battery sources with extra sun shades on the larger monitor.
We used our Teradek bolt to provide a zero delay SDI wireless feed from the camera to the Blackmagic recorder and Blackmagic Smartview monitor and then we used our Paralinx Ace to provide a wireless feed to the Directors monitor via the Blackmagic video assist/player which acted as a cross convertor SDI to HDMI. Everything worked flawlessly, with signal on monitors all day and very little battery swaps using our Pag 150W Vlock batteries.
We have subsequently sourced a special Alexa mini lemo to XLR cable to allow us to run scratch sound into the camera to then feed it back to the Director and/or clients for audio monitoring Since the mini Alexa does not have any built-in microphones or normal XLR microphone inputs its possible to feed audio into the camera via a radio mic and this special cable and then output the embedded audio over SDI into the recorder/player for client playout.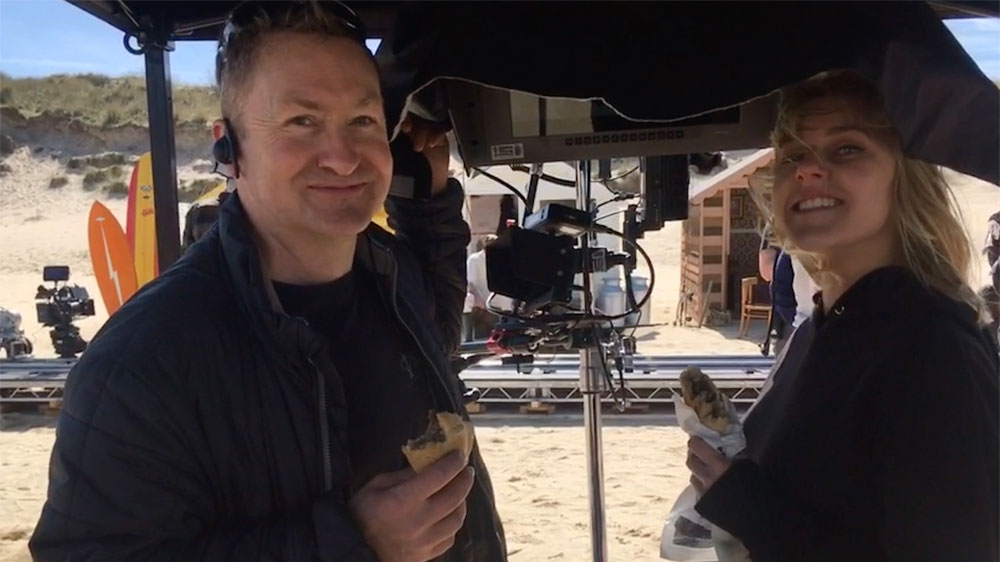 The Cornish pasties went down well at lunch time and there was plenty of tasty kelly's Cornish Ice cream back at base (in a big ice cream freezer!) to 'sample' later in the day whilst finishing off data wrangling. Yes there really was a real cow in that beach hut! A very well behaved cow indeed.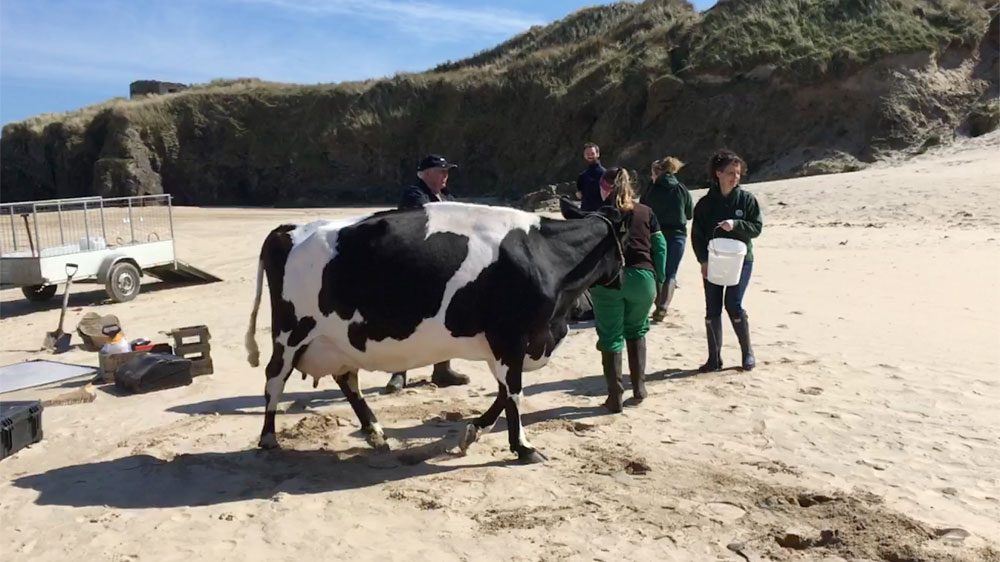 Click the link above for the video - dont adjust your hearing, yes it is spoken in Cornish! This advert is part of a series of Cornish language Ice cream commercials from the Kelly's brand by Fat Lemon tv.
If you need Crew for your next production in the South West then please get in touch and see how we can help you from camera operators and DoP, sound recordists to video play out, focus puller, Gimbal operator or lighting cameraman.