On what should have been our 10th successive year of filming and live streaming at the incredible Bridgwater Carnival, sadly we were at home.
For a 2nd year, the Covid-19 pandemic put a stop the event.

So following last years success, the Carnival Committee decided to once again host a virtual Best-Of' event.
The unique two hour virtual carnival contained a collection of clips showing the best ever entries ever to enter Bridgwater Carnival over the past 38 years chosen by carnivalites themselves, as well as footage of a previous squibbing display.
Having produced 5 of the annual DVD releases, we had some of the footage to hand, but the rest was only available on DVD releases from another company, so we were sent the DVD's and used software to extract the required clips from the films.
Once the basic edit was created, Chris Hockin (the very popular narrator/comp?re of the carnival for many years) popped into the office to record a voiceover for the carnival procession.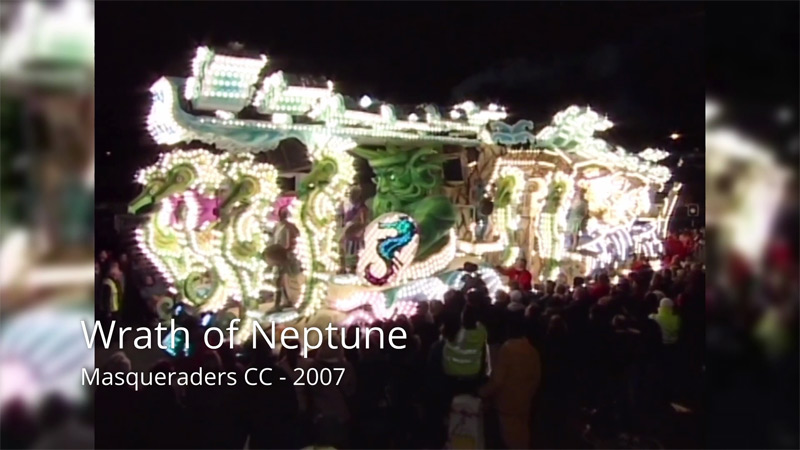 Mark then edited the whole procession together (not always easy as some were filmed in 4:3 ratio, not the current 16:9 widescreen format).
Once the film was approved, the final edit was uploaded to Vimeo for the livestream. He also built a DVD master for replication which was sent off the the replication house.
Head over to the Bridgwater Carnival event website for more information on the charities involved and to buy your copy of this years DVD.
If you missed the event and the live streaming then pop a date for your diary for next year, Saturday 5th November 2022.
-------
In other news, the magnificent, amazing entries created for Bridgwater Carnival have come to the attention of the organisers of the recently announced Platinum Jubilee Pageant which will form part of the celebrations marking the 70th anniversary of Her Majesty the Queen's accession to the throne.
This has manifested in an official invitation to Bridgwater Carnival to join the festivities and preparations are already underway to create a special entry for the Pageant's Carnival parade to be staged in London on 5 June 2022.

The organisers were very pleased with the results and if all goes according to plan, we should be back at the carnival in person next year!!
If you need to hire any camera/grip or live event equipment or crew for your next event then please get in touch and discuss your requirements.