Here at Maniac Films we love a well designed camera rig, because while it's possible to shoot great video with just a camera and lens, many film-makers quickly realise that they need to add extra kit such as monitors, external recorders, matte boxes and microphones to their set-up. Most video and cinema cameras are designed with an array of mounting options for adding such accessories. However, the ease of expanding a DSLR style camera is more challenging. These cameras are designed to primarily shoot stills and aren't ideally suited to shooting video. To help with this; you need a rig.
That's why we love camera rigs. We use them all of the time when shooting video on a DSLR camera. Not only do they look more professional on set (especially when filming with a DSLR type camera) but more importantly they provide ways to mount extra pieces of kit, such as monitors, follow focus, wireless transmitters and more.
Camera Rig Varieties
Camera rigs really come in 2 types, tripod mounted and shoulder mounted. Tripod mounted rigs are ideal for mounting extra kit. Shoulder rigs can be used with extra kit, or they may be minimal but give you the freedom to shoot handheld.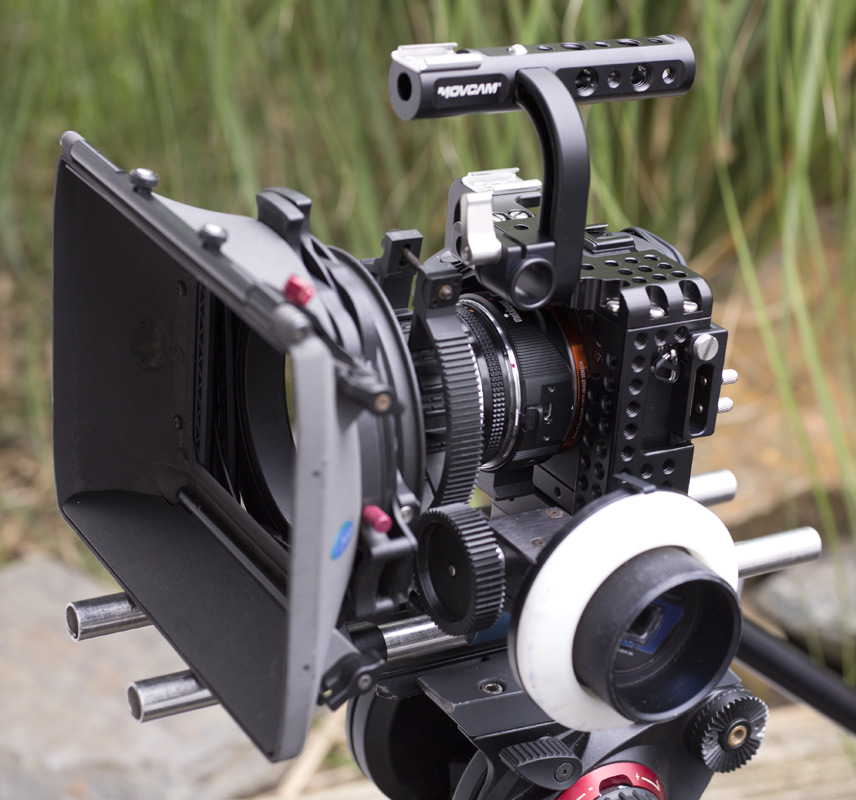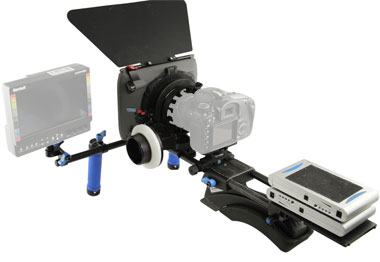 Additionally, because smaller cameras are so light, such as the Sony a7s II, Canon 5D mk III & Canon 5D mk IV, it's a lot easier to introduce camera shake when working handheld. Older, larger cameras and modern cinema cameras like the Blackmagic URSA Mini Pro, Arri and Red Cameras are much heavier which helped to stabilize them during handheld shooting. However these cameras are generally not held in the hand, but are mounted onto the operators shoulder to spread the weight and also further stabilize the shot.
We stock a range of pre-built camera rigs, both with and without shoulder mounts, but we know that these won't suit every type of camera so we can customise them to work with your camera set-up. You can check out our range of pre-built rigs here: Maniac Films pre-built camera rigs or our full range of parts here: Maniac Films Rig parts if you want to design your own (or if you just need a few extra bits for your own rig).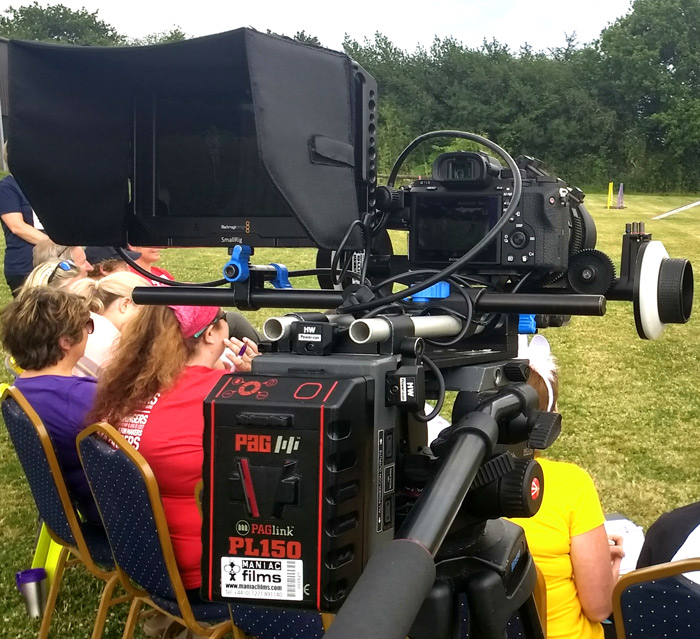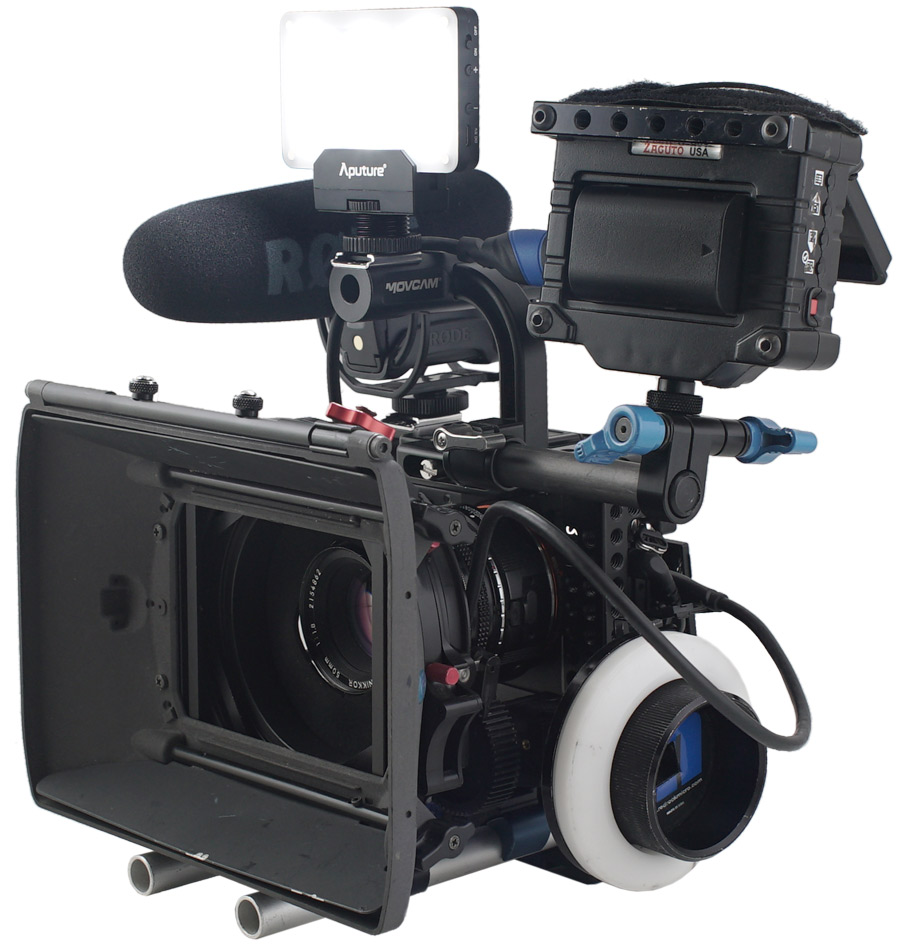 Shoulder Rigs - to off set or not to offset?
Now of course not all rigs and shoulder mounts are built for the same reasons or for the same camera.

When using a shoulder rig, you need to consider what configuration is best suited to the camera you will be using. One of the first things you need to consider is if you want a straight shoulder mount or a offset shoulder mount. If you're using the LCD monitor on the back of a DSLR then you'll need an offset shoulder mount. This moves the camera sideways from the shoulder mount itself, lining the LCD screen up with the operators eyes. Otherwise the screen would be off to the side and they would have to turn their head.
However, if you're using a separate monitor or a camera with a fold out LCD screen on the side (or a DSLR screen that flips out to the side) then this becomes less of an issue and you can use a straight rig

All of our rigs come with a 15mm rod mount system, generally speaking a rail system is better because it's more adaptable to different shooting scenarios and you'll be able to build onto it shoot requires. Rod mount systems make it easier to add on attachments such as a follow focus, lens support, matte box, handle and more. You could also attach an articulating Zacuto arm and clamp to get your monitor off of the hot shoe of your camera if you like.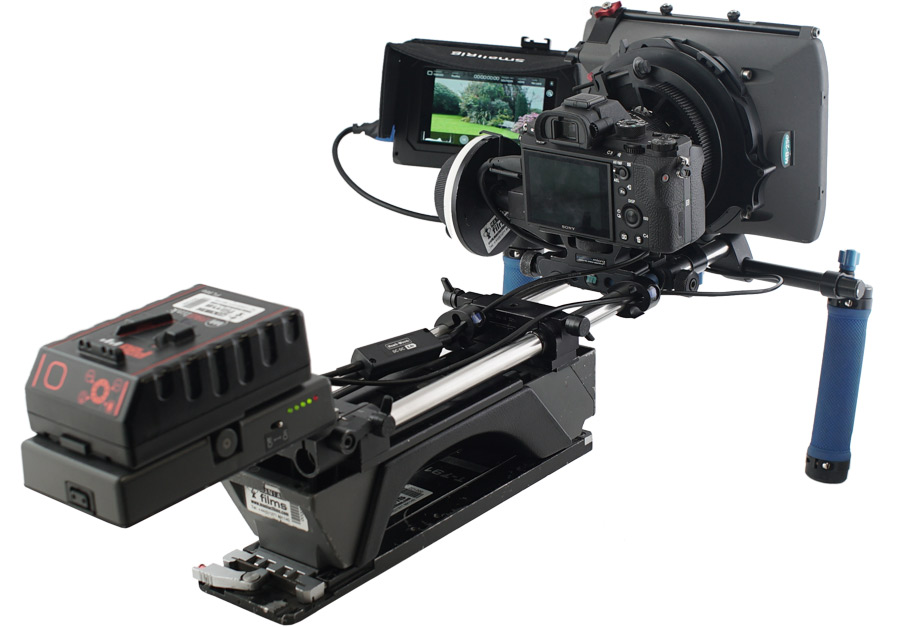 Gimbals & Stabilisers
Ok so these is one more type of rig that we need to mention; and that's a stabilised gimbal rig.
Steadicams have been around for a while and required a lot of practice to use. However recently a new breed of camera stabiliser has appeared on the market, the powered 3-axis gimbal.
A powered gimbal used a gyroscope and powered motors to keep your camera steady and level as you move. They can also be set to either point in one direction or you can set it to follow you as you turn, with varying follow speeds that the operator can set. They can follow you for pan, tilt and roll movements.
Even better, some of them will allow a 2nd operator to remotely control the gimbal movement!
We stock three models of 3-axis gimbal, the DJI Ronin for heavier cameras, the DJI Ronin-m for lighter cameras and the new DJI Ronin-s for DSLR cameras and designed for single handed use.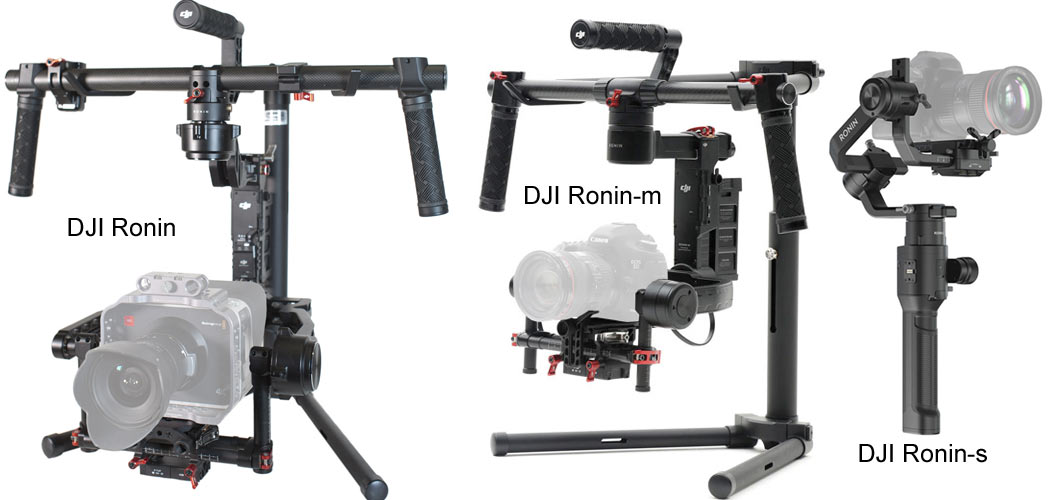 These stabilised rigs offer fantastic range of stabilised movement for your shots, and you can trick them out with monitors, remote follow focus, microphones and remote video senders such as the Paralinx or Teradek units, allowing a focus fuller, director or 2nd operator with a remote to see the shot without looking over your shoulder.