This is the second video in a series of short 'behind the scenes' videos we have been producing for Greenergy International and is now online on their YouTube channel. Greenergy supply more then a quarter of the UK's road fuel, supplying to oil companies and supermarkets and are a branded wholesaler to Esso.
This film is all about the safe loading of a fuel tanker at their fuel depot in Plymouth. A fuel tanker typically carries 36,000 - 40,000 litres of fuel and takes around 18 minutes to load. We produced a video to give an introduction on how the Greenergy drivers load a fuel tanker safely, taking into account static electricity and vapours that might have been picked up when emptying at a petrol station. The tanker has 6 different compartments and can take different types of fuel (petrol/deisel) in each compartment.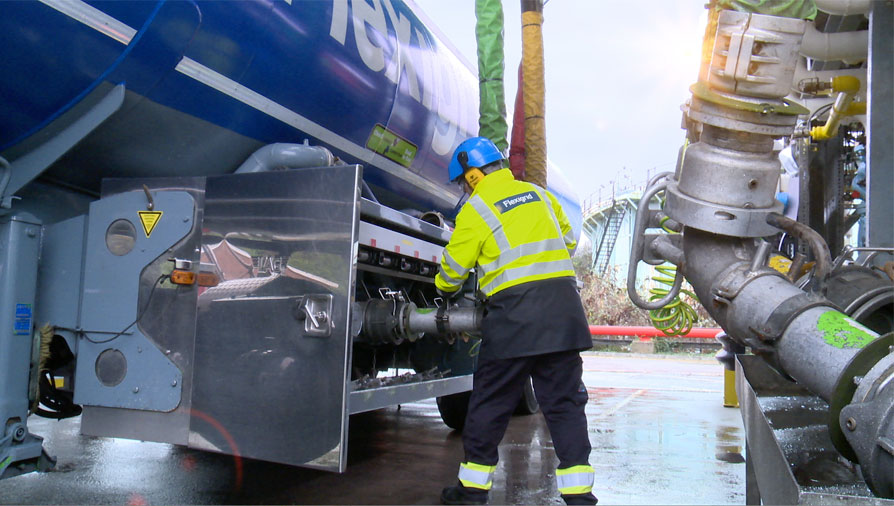 Greenergy have a lot of safety precautions on site so Mark had to wear the full safety kit including gloves, safety glasses and hard hat whilst on site as well as using a personal gas monitor to ensure it was safe to operate the camera and radio mics. Additionally we couldn't film in certain areas of the depot and too close to the fuel loading area. As it says at the end of the video 'all necessary precautions were taken to establish and maintain a safe environment for he making of this video'. The weather wasnt great as it was true coastal December weather, but we tried to grade the video to make it look a bit nicer then it was.
If your interested in a tour of the Plymouth depot site as a school STEM visit then please get in touch with Greenergy to discuss. They are keen to involve young people in all aspects of the business and have a number of apprentices in place already.
If your interested in seeing how our video production services can help get your business message across then please get in touch.