We were contacted by Rob from Waggle Events, who needed a camera crew for a corporate training event near Burton on Trent.
The event for a large haircare brand, who had arranged a corporate teambuilding event over a few days for a number of their head office staff.
Four crew members travelled to the event, Stu, Phil, Pete & Sean. Their destination was a large spa hotel and the team felt a little overdressed at first as they entered to find a lot of guests walking around in bathrobes. The event was being run with events company ACF from Bristol.

As part of the day, the attendees were split into 7 teams, made up of a director, script writers, costume designers, location manager, camera op and sound op. The teams were then instructed that they would be planning, writing and filming a 1 hour advert for a product line (chosen at random) from the company's catalogue.
While the rest of the team planned the story, the camera & sound operators were assigned to one of our 4 crew for an hours tutorial in using the cameras and capturing good quality audio for the advert.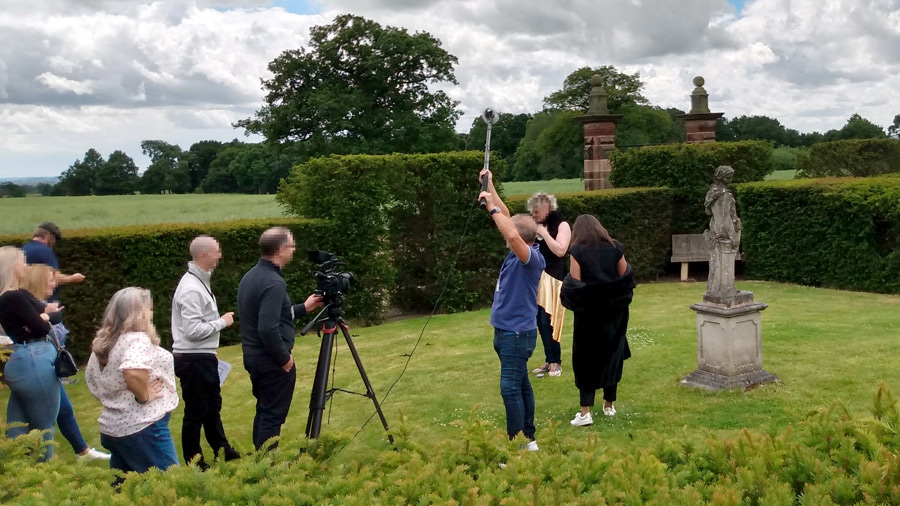 Once the filming started, our team moved around the hotel, checking in with each group and offering assistance and advice where needed.
Once the filming was complete, our team was handed the storyboards and footage for a quick edit. Within an hour, the 7x commercials were complete and were handed to Rob. These films were then played back to the attendees that evening.
After the event we received the following feedback from the client "I just wanted to say many thanks for you and your team's effort, we had a fantastic time and the 'Commercials' were brilliant and I'm sure that was down to clever guidance and editing!! The event really set the tone for an incredible couple of days"