Now in stock, we have the Atomos Ninja V - an all new compact 5.2" 1000nit high brightness HDR monitor/recorder with unrivalled advanced features. It has a sleek modern design and weighs just 11oz - perfect for mirrorless cameras, DSLRs and gaming.
This clever little monitor can record up to 4Kp60 10-bit HDR video direct from your camera's sensor over HDMI 2.0. Combined with an Angelbird 500GB AtomX SSDmini you can now achieve up to 75 minutes of 4K recording on a single drive! And when you're done, your edit-ready ProRes and DNxHR recordings are stored on affordable SSD drives.
The Ninja V displays 10+ stops of dynamic range in real time from Log/ PQ/HLG signals.
A super bright 1000 Nits display allows you to see your images clearly in daylight on the near edge-to-edge anti-reflection screen.
The monitor also has a range of other features, including zebra patterns, focus highlighting, false colour, LUTS and more.
You can choose from a range of recording formats to record to the removable SSD mini.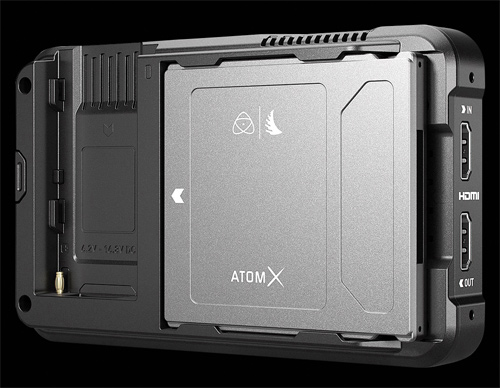 As with previous Atomos Monitor/Recorders, the Ninja V enables audio input directly from your camera. Choose from digital source via HDMI, or analogue input via the stereo 3.5mm line/mic socket, as required by your set-up.
Mini SSD recording
With a 500GB AtomX SSDmini you can now achieve up to 75 minutes of 4K recording on a single drive! If you opt for the 1TB version you can double that. So not only do you get a reliable storage solution, as it also records to ProRes and DNxHD, you are guaranteed a high quality file at the end of your shoot.
Edit, finish & upload on Mac & PC:
The recorded Ninja files are available immediately on your Mac or PC for editing. Tag while recording on the fly for direct-to-edit look-up with up to six streams, edited directly from the SSD in Final Cut Pro X, Adobe Premiere or Avid Media Composer. Video and gaming workflows are supported for the fastest path to your audience.