We have been up to Wales to do some 2nd unit filming for Risen, the story of Howard Winstone, by Burnhand films, directed by Merthyr born Neil Jones.
A lot of the film has been completed and we were getting some more montage scenes with the Sony F900 to cut-in with existing footage.
Final parts of Risen will be filmed in November.
Risen is the dramatic story of world featherweight boxing champion Howard Winstone.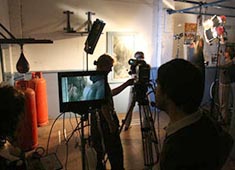 Risen: The Howard Winstone Story is a new feature film from Burn Hand Films. Maniac Films provided equipment hire, camera, sound and grip crew and post production services. This page will highlight some of our work on the film, document the history of the film and follwo the progress until the theatrical and dvd release. This is our first full-length feature and we are very excited.
"The story of Howard Winstone is a compelling one. Howard became Featherweight Champion of the World at the age of 29 in 1968.
What makes Howard's story quite remarkable, is that as a young man he lost the tips of three fingers in an industrial accident in his home town of Merthyr Tydfil. The accident was so severe that he was unable to make a fist with his right hand, a devastating blow for anyone, but a blow made all the worse for one who's entire career demands the use of both hands. Howard was known for his right handed power back in his early days, so the day of the fateful accident was essentially the day Howards' boxing career came to an end, but he completely changed the way he boxed and remarkably went on to become Champion of Britain, Champion of Europe and Champion of the World!
The story of Howard Winstone's boxing career alone is a remarkable one, but there was far more to Howard than just his boxing career.
In Howard there was an incredible burning passion, a passion to overcome all the odds, Howard Winstone was distilled with something quite remarkable, Howard Winstone was destined for greatness. And through incredible adversity he achieved not only his life-long ambition, and exceeded the hopes of an entire nation when he was crowned Featherweight Champion of The World at his fourth and almost certainly his final attempt. The feature film Risen takes the audience on this incredible journey, from potential to injury and from injury to greatness. "