Back in August we were contacted by Blast Films, the Production company behind the BBC's Saving Lives at Sea programme.
Saving Lives at Sea is a documentary series following the volunteer members of the RNLI across the UK as they rescue those in need.

As part of the series, filming took place in Ilfracombe and followed the local RNLI crew which includes Mark Daniel, a local Michael Buble tribute act known as Ultimate Bublé. A few years ago we filmed Mark performing with his band in a local theatre before he started his tour.

The reason that we were contacted is because they wanted to feature Mark's work as a singer in the show and needed some live performance footage of Mark on stage. Mark provided they production team with a low-res copy of the footage from the concert and the production team picked the bits that they needed and sent us a list of timecodes.
Stu went back through the footage from the live show, pulled out the HD clips that the production team required and sent them off to the edit suite.
Saving Lives at Sea Episode 6 was aired last night (Tuesday 8th October 2019) on BBC2 and is currently available on iPlayer.
You can see the section starring Mark and the rest of crew as they save stranded tourists at about 32mins into the episode.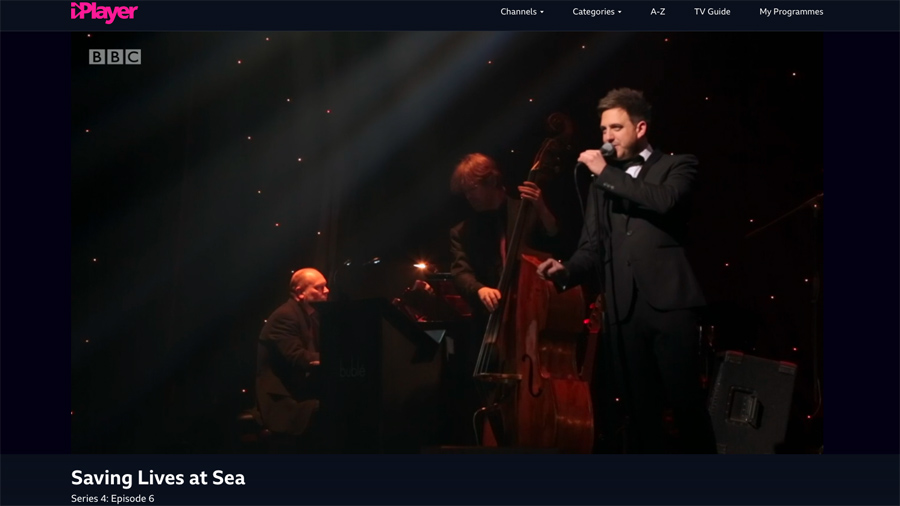 Previously we have supplied interview & performance footage to a number of broadcasters including Endemol for Big Brother, Britains Got Talent, BBC Southwest and we have supplied stock footage for film productions.

If you are interested in purchasing stock footage from Maniac Films, please get in touch