We have now added the Allen & Heath ZED-14 mixing desk to our rental kit.
The ZED-14 is a perfect mixer for small bands, solo performers or AV applications. Its comprehensive feature set, compact size and fine lines combine to make it one of the best small mixers around. Provided with configurable USB audio in/out makes it easy to capture stereo recordings, 6 mic or line inputs, 4 stereo inputs with EQ, there are an incredible 157 controls on the front panel of the ZED-14.
Having recently worked on a number of live-streaming events, and with more coming up, we felt that a more versatile sound mixing solution would be essential moving forwards.
We recently used the desk to mix a live streaming event for Travel Chapter which required 4x radio mics plus multiple feeds coming from a live music cue desk, Zoom feeds and playback from a vision desk which was sent for both live stream and playout into the room
Construction and design
Our first impressions of the ZED 14 are that it has been made to a high standard with sturdily fixed sockets, and has knobs that show no sign of wobbling. A nice touch is 100mm long throw faders rather than the shorter variety. The desk offers six main mono channels with both mic and line inputs plus a further four stereo channels with line inputs. Added to that are two basic stereo returns and the stereo return via USB - giving you you have 13 sources to mix.
The EQ is taken care of by high & low frequency filters, plus a swepable midrange, providing 15dB of cut or boost over a frequency range from 120Hz to 4kHz. This means there's plenty of control over your sound. Each channel also has four AUX sends, two pre-fade for use as monitor or cue sends, and two post-fade for accessing any external effects.
Monitoring is available via headphones with both a standard quarter-inch stereo socket and a mini jack socket, and there is a separate 'ALT' output that can be used for connecting speakers.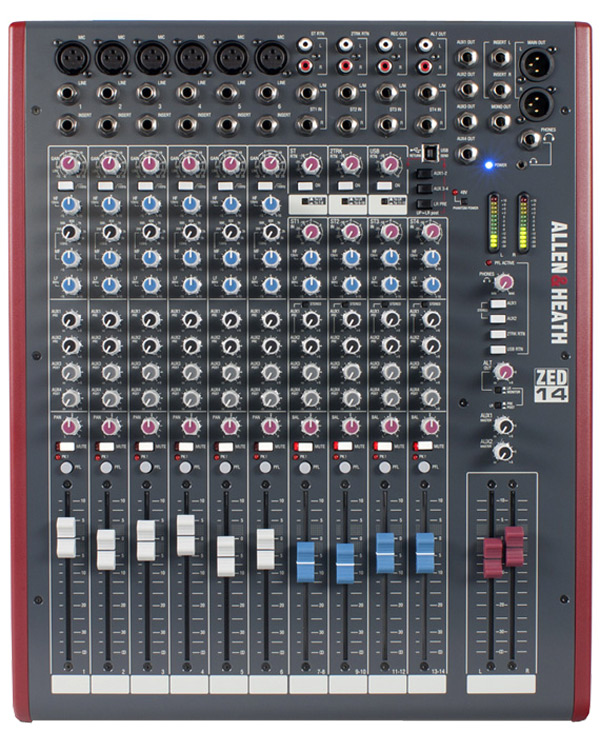 Routing
The computer connection is USB1.1 rather than the more powerful USB2, so it only supports transfer of two channels (stereo) from the main mix bus.
There are actually three options for routing audio via USB from the ZED 14. Besides the main mix you can send from either of the two sets of AUX sends, which, using the pre-fade sends, could allow recording of a different mix to a computer than you hear from the main faders. The third option uses the post-fade AUX sends, opening up the possibility of using computer-based effects plug-ins during a live gig and returning the output into the desk.
The Allen & Heath Zed-14 mixer is now available to hire from Manaic Films - Allen & Heath Zed-14