Now available from Maniac FIlms for your next event or production, we bring you the Hollyland Mars T1000 full-duplex wireless talkback system.
This digital wireless system has a range of approx 1000ft/300m from the base station to each of the four included Beltpacks with line of sight (L.O.S). So even if your crew are at opposite ends of the set you can still stay in contact with each other. Full duplex means no push to talk buttons, you can just hold a conversation while operating kit easily.
The system is ideal for a range of events and venues, including weddings, sports events, concerts, corporate events, film sets and more.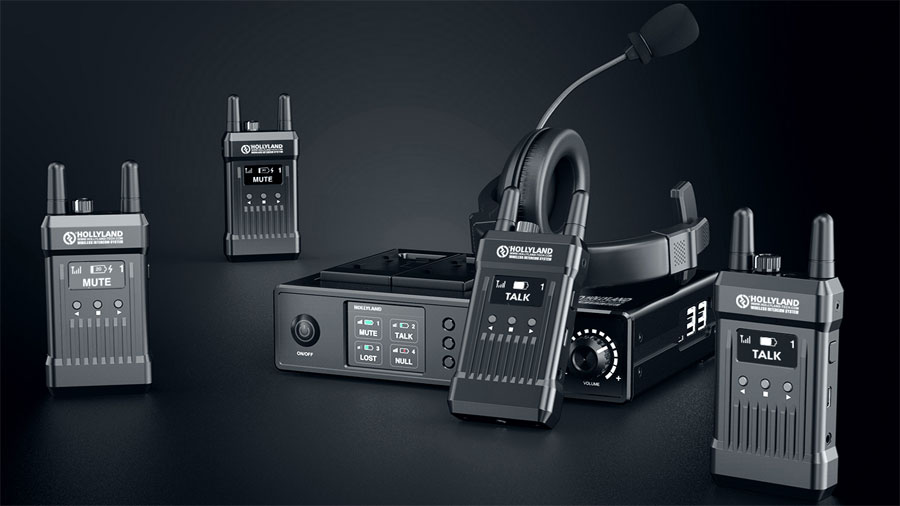 The base station can support up to 4 beltpacks at once, however they can be daisy chained together if another similar unit is available and can even be adapted to work with other 2-wire intercom systems, such as InterCom and Hanson (adapters required - ask for details).
The included Beltpacks are compact and remain unobtrusive - they are smaller than most modern smartphones, so are really easy to slip onto your belt or fit into your pocket on on a layard. They feature volume control on/off and mute buttons.
The base unit can be powered via the included DC power supply, or use up to two Sony NP-F style batteries for up to 20hours run time on one battery. This makes thi kit super flexible and able to work on set or out on location! For extended battery life we offer a NPF-Vmount adapter as alternative power source too if you have Vmount batteries.
Added to that, each fully charged Beltpack has a runtime of over 8 hours and can be charged via a portable power bank for increased runtime, so even if you forget to charge your Beltpacks before the shoot, you can charge on the go. (Get in touch about our optional power banks which can be added to the kit). The Beltpacks charge over USB and can also connect directly to the base station for charging with the supplied cables.
Included with the kit are 5 Single sided headsets with adjustable position microphone