We have been working with Sue Carpenter to design and produce a Blu-ray release of the story of award winning Nepalese filmmaker Belmaya.
The DVD release, titled 'I am Belmaya', features the titular 84min film directed by Sue Carpenter & Belmaya Nepali, and 3 short films made by Belmaya.

We were contacted by Sue to help with designing the Blu-ray menus, tweaking her cover artwork and finally building the master Blu-ray.We also produced a short run of disks for her to use for promotional material and to hand out to sponsors.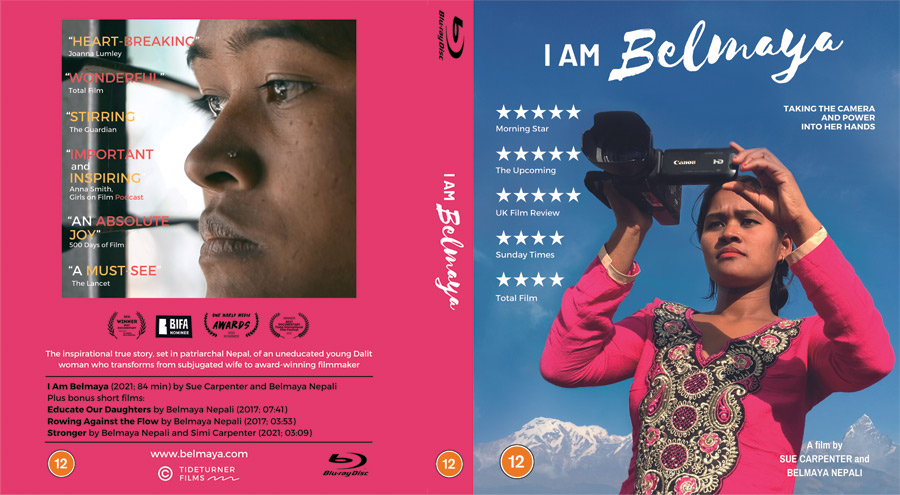 An inspirational tale of rebellion, courage and hope in patriarchal Nepal. Silenced and subjugated for most of her life, uneducated Belmaya takes up the movie camera to tell her story.
Spanning 14 years, Sue Carpenter and Belmaya Nepali's feature-length documentary follows Belmaya's transformational journey as she stands up to her husband and society, and reclaims her voice through filmmaking.

Stu worked on the menu and cover artwork, while Mark build the master copy, which included both stereo and 5.1 audio and optional subtitles.
The master copy was delivered digitally to the client alongside physical delivery of a number of duplicated Blu-ray discs
Id you need help with a DVD or Blu-ray release, get in touch with us here at Maniac Films. We have helped many clients to get their work onto physical disc media and are happy to help you to get your masterpiece out there too.