Universe Inspectors One Day EP
£7.99 + p&p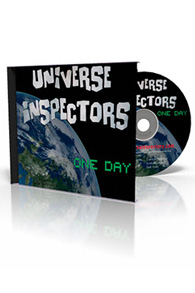 Released way back in July 2009 - the latest studio album from the Universe Inspectors. HD Video clips from the live recording and from the latest gigs coming soon!
The Unis aimed to achieve a sound as close to the Live sound as possible - so they recorded the CD while all playing at the same time. With minimal 'overdubs' they managed 6 tracks in 8 takes in one day.
All tracks © The Universe Inspectors 2009. Recorded & Mixed by Ross Chapple, Adam Smith & Oscar Kusmidrowicz. Executive Producer Lee Thommen. Cover design, print & duplication by Maniac films ltd. Extra information on the new Universe Inspectors web site.
Over 40 minutes of wicked sounds including:
Guns and Knives (8:35)
Mr Nice (6:26)
Ideal World (6:25)
Universe Inspector (6:52)
Love that we had (7:20)
Dub Train (8:04)