The Digital Filmmaking Handbook by Mark Brindle
£8.99 + p&p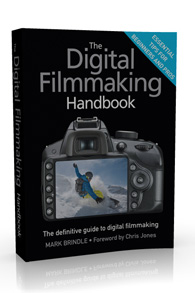 Whether you are already a seasoned director or simply a film fan, this comprehensive guide features everything you need to know to make a digital film: from the basics of capturing footage and planning a shoot, to the more advanced aspects of editing and post-production.
Clear, step-by-step instruction on the technical aspects of filming with HD and DSLR cameras - including the latest advice on 4k equipment, accessories, and software are set alongside tips on the creative aspects - such as effects, making a storyboard and creating and lighting a set. The book is separated into beginner sections on equipment selection, techniques and understanding technical aspects of depth of field, sound recording and editing and advanced sections on scripting, casting and drama productions, DVD authoring and selling your film.
Packed with tips and tricks to develop both your artistic flair and your technical know-how, The Digital Filmmaking Handbook is the ultimate resource for all your filmmaking needs.
An indispensable reference book for all those who are fascinated by film production and by the creative and technical work behind each camera shoot. The book contains a forward written by Chris Jones, author of The Guerilla Filmmakers Handbook and has since been translated into Turkish, Swedish, Russian and Italian.
More about the author - Mark Brindle runs the video production company Maniac Films (This site).
Screenshots from the inside: Contents page and a sectional header for Your Equipment (click to enlarge).
Related Posts
| | |
| --- | --- |
| | Alternatively you can buy Mark's book from Amazon directly - read some of the 5 star reviews |