Shipping & Returns Information
Where can we ship to?
We can ship to anywhere in the UK via courier for next day delivery (some areas including the Northern Highlands may take two days) and if your rental kit is booked and paid for before 10am we can get your equipment to the courier on the same day to arrive the next day. We also ship to Ireland and can ship to other parts of Europe too.
When you can deliver and pickup?
Our next day courier DHL will deliver 6 days a week (Sunday excluded). Delivery services include by 10.00, by 12 and next day any time 9am-5pm (anytime service not available on Saturdays). We can also send small single items such as lenses via Royal Mail Special Delivery for next day delivery on a by 10am or by 1pm service.
How much does it cost?
Cost is worked out by volumetric weight and we show the shipping price when you add an item into your kit list (like a shopping cart). We double check with our courier before finalising the rental and inform you of the price before taking any payment. Please contact us for a specific shipping quote based on volumetric weight if the price does not automatically show up on the website. Some very heavy items need to go by freight and this requires a manual quotation.
Can you explain the delivery tracking and pick-up times?
Our next day courier DHL offer a tracking service through their website. It will let you know which stop number you are on the drivers route and also which stop the driver is currently making. They also offer a 2hr delivery window, (Note: a few of their depots do not offer this as they are independently owned.).
Pickups are based on an 'anytime' pickup between 9am - 4pm with no indication on when the driver will arrive to collect so you will need to be available all day.
You can track your shipment on the DHL website: https://www.dhl.com/global-en/home/tracking.html. You will need your consignment number (this will be sent to you) and your postcode. This will show you the basic tracking.
How is it shipped?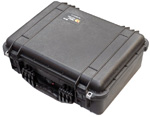 Most of our equipment is shipped in Pelican (Peli) cases, which are hard wearing, shockproof, waterproof cases. Some equipment like tripods are sent in padded bags within solid cardboard boxes.
How do I return the equipment?
Our usual practice is to book the return courier for you and send you the paperwork - you print out the return labels and attach them to the gear. Some couriers will only let us book a week in advance, so for long term rentals we will book it nearer to the collection date and e-mail you the documents.
For short rentals we usually supply the paperwork with the equipment, e-mailing a back-up copy to you as well in PDF format.
Please ensure all of the original shipping labels have been removed prior to collection by the courier.
Can I collect the equipment from you?
Yes! We are happy for you to collect the equipment from us in North Devon. Just let us know when you book the rental and we can arrange for someone to be here. We can also talk you through any questions you have and even demonstrate equipment before you take it away. We can arrange equipment specific training too if required. If you are not far away we can sometimes deliver same day if we are available.