Surf into Yoga with Rochelle Ballard
£14.99 + p&p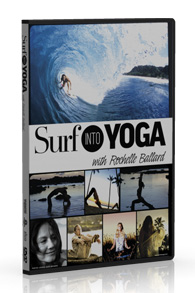 A New Rochelle Ballard Surf and Yoga DVD just released in July 2010. Passionately sprouted from the seeds of surfing, Surf Into Yoga with former WCT Pro-Surfer, Rochelle Ballard is an instructional Yoga DVD, that encourages a growing consciousness of mind, body, spirit, and the footprints we leave on this planet. The liquid energy of the ocean and inspiration from her surfing guides us into the power of yoga, and the essence of Hawaii.
With the experience of her brother, Hatha Yoga Instructor, Hoku Gordines and Co-producer, Pro Snow boarder Chanelle Sladics, this film takes you through five different yoga sequences, from Hip and Shoulder Opener's, to Sun Salutation Vinyasasa's. All captivated by artistic cinematography that embodies the beauty and essence of Hawaii.
Music by: Jack Johnson, John Swift, Donavon Frankentreiter, and Kai Walsh. Total Running Time: 85 Mins, 15 Mins Bonus. DVD Region: None (can be played anywhere in the world). The Disc is packaged in a Recyclable DVD Case. Bonus includes Music videos Featuring Jack Johnson and Rob Machado.