Devon Lanes & Longboards
£16.25 + p&p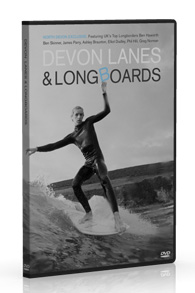 Devon Lanes and Longboards is a charity surf film born out of the love of surfing and an appreciation of North Devon, its waves, its people and its places. Devon Lanes and Longboards is a surf film featuring many of the UK's top Longboarders surfing at various beaches around the North Devon area. Starring local surfers including Ben Haworth, Ashley Braunton, Phil Hill and many more. It also features other top Longboarders such as Ben Skinner, Elliot Dudley, James Parry and Adam Griffiths.
Now over £5000 has been passed onto Charity from sales of this DVD.
If you are passionate about surfing you will be in 52 minutes of heaven. There is also 8 MP3 tracks that are downloadable thanks to Chris Warner.
Final post production (colour grade, slow mo cleanups, titles), DVD authoring, DVD print and duplication by Maniac Films Ltd. Artwork Design by Maniac films and Barret Design.
The motivation to complete and publish the film was stimulated by the awful news that my sister was diagnosed with secondary cancers in April 2009. I wanted to show her my love and support by making and dedicating this film to her fight against cancer and to donate all the profits from the film to a charity of her choosing." Andy Haworth
Postage £1.50. Running time: 52 Mins. Presented in 16:9 widescreen aspect ratio. Sound track: English 2.0.