Hiring kit from us can be easy!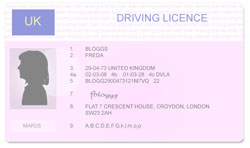 If you are hiring from us for the first time, we ask to see proof of ID. This is a security measure to protect both ourselves and our customers. We ask to see a scan or photograph of a driving license photo ID and/or passport and also a recent (last 3 months) utility bill or bank statement that shows your name and address to match the shipping address. We will need a landline telephone number for the shipping address.
For limited companies we will need a purchase order sent with your company address & registration number plus utility bills as proof of address. To speed up the process it is best to email us with your ID documentation as soon as possible.
Insurance for rental equipment
As part of our rental policy we require that individuals & companies renting equipment, have adequate insurance to cover the value of the kit. This needs to be a specific all risks hired-in equipment insurance as part of your main insurance package and must cover the full shoot dates and cover the full equipment value. For drama insurance this is usually always included but for some photographic and video insurance policies you may need to add on some extra hired-in cover. Please send us a copy of your policy which shows the policy dates, policy name and address and hire-in value. You can try Performance Insurance for an online instant insurance quote and to purchase insurance if you do not have a valid policy.
Occasionally we take a deposit payment in lieu of insurance on some low value items, but this is a full deposit to the value of the equipment. This deposit will be refunded to you as soon as the equipment is returned to us in working order. Any damages will be agreed with you and then deducted from the deposit if applicable.
Payments
Deposits and payment can be made on credit or debit card, however credit cards will incur an additional 3.5% + vat processing fee on top of the payment. Debit card payments have no additional fees. We are unable to accept payment by American Express, Diners Club, JCB credit cards or Electron debit cards.
We accept the following cards: